Eindhoven. Your city. City of Brainport, PSV, High Tech Campus and Stratumseind. There is more than meets the eye, however. Foundation Ervaring die Staat (Meaningful experiences) invite Eindhoven citizens to take a tour and see the other side of Eindhoven. To visit the streets of the homeless and hear what it means to live on the streets. 
Mark and Roland know what it means to be homeless. They live on the streets, feel despised, and have to find a place to sleep every day. They use their experiences to guide visitors around their Eindhoven. They help others to understand what surviving on the streets means.
From home to homeless
Mark (39) is from a wealthy family, and has a university degree. His mother died when Mark was 13. When Mark is 29, his father dies as well and Mark is the one to find the body.  The image of his father who had been dead for some time is so traumatic that he becomes depressed and addicted. He spends his inheritance of nearly a million euros on cocaine. His partner leaves him, and his car becomes his home.
"So there I lived with my two cats. They were the only creatures who made me feel I mattered. I had no social network, no job. I parked the car on the outskirts of the city so no one would see me."
Those were grim years. The most painful moment came when someone knocked on his window and passed him a few coins. "I was so embarrassed I could have died with shame.  The gesture was well-intended but made me realise that I needed to change."
Roland (34) likewise ended up on the streets through financial trouble and a drugs addiction. With the help of the foundation 'Ervaring die staat' they managed to scramble back up. They now have a roof over their heads. Colour has come back into their lives.
"It can happen to anyone"
This tour is intended to help others understand the plight iof those whose lives took a wrong turn. "There is a fine line between having a roof over your head and becoming homeless. It can happen to anyone."
There are some five hundred registered homeless people in the city. The tour starts in the city centre. In a park Roland halts near a tall tree. The unsuspecting passer-by sees a tree, nothing else. But as soon as the branches are parted, someone's place to sleep comes into view.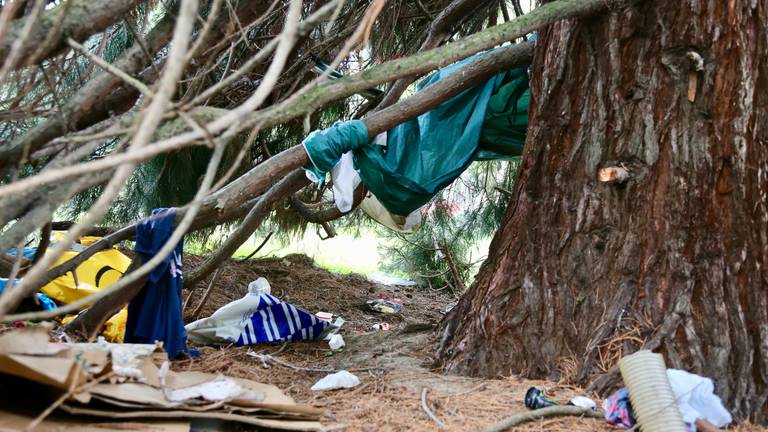 A bit further down a commercial building has a flight of stairs accessible to all. Mark: "There was a good spot under the stairs where you could sleep: dry, not windy, out of sight. But it has been boarded up. So a quest for a new spot begins."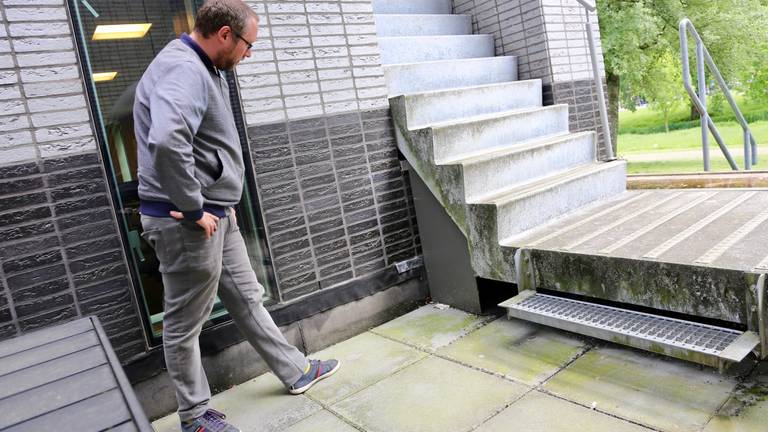 This tour is an eyopener, because places where people sleep turn up in the strangest places. One is under a road, where a homeless person dug a tunnel to sleep in. When the municiplity discovered it, they blocked it off with concrete. The blankets are witness to the fact that someone still sleeps here.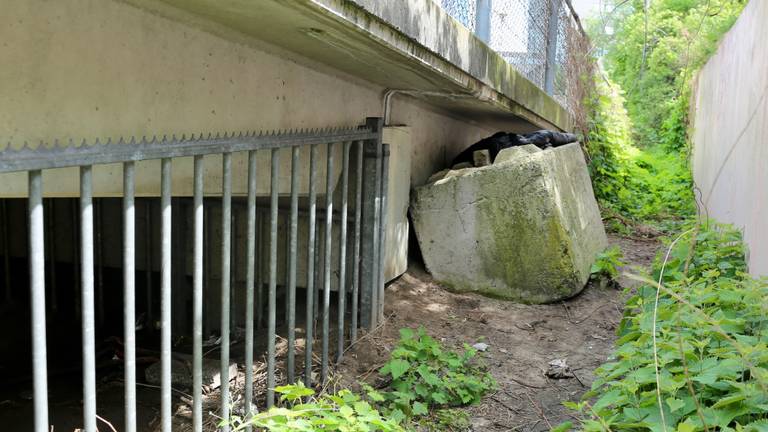 Parking garages are also popular. They are dry, and, with a bit of luck, high as well. An example is this pillar, which can only be reached by climbing over the barrier.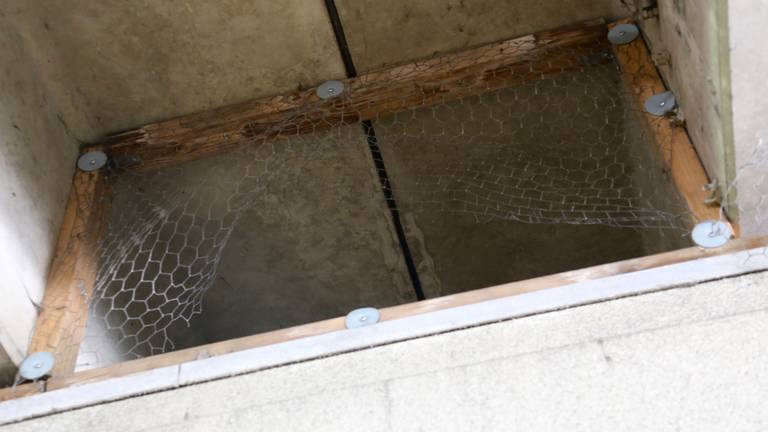 The homeless do not only live in the city centre though. "They are chased away from many locations, so they find spots further away. Quiet places, where they can hide."
This becomes visible along a busy road in Tongerle. People spend the night in the bushes there; it's a dismal spot. Coats, shoes, CDs, toothpaste testify to human presence.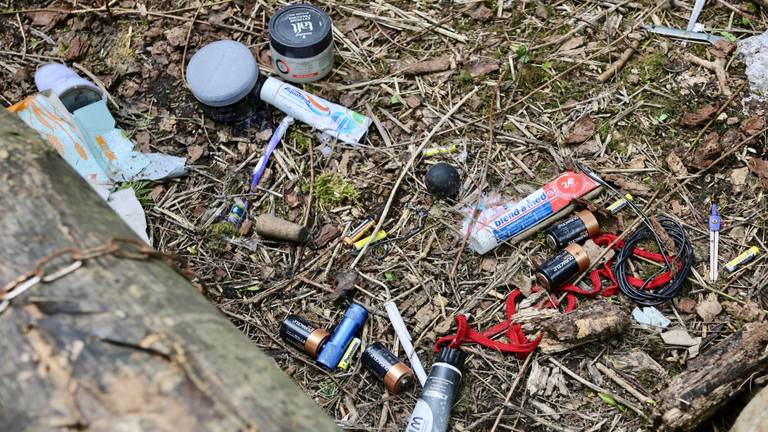 For those who have no clue it is a strange realisation that there are people in Eindhoven living like this. That you pass them without seeing them. "People do not wish to see a homeless person and go out of their way to avoid you", says Roland. "And it hurts."
What is the best way to interact with people living on the streets? Mark: "You do not have to do anything. Just say hi. Greeting a homeless person makes them feel seen."
If you want to go on a tour, get more information from  Ervaring die staat 
Source: Omroep Brabant and Ervaring die Staat