It was a diquieting sight near soalr park Lungendonk in Lierop, where a fire broke out on Sunday afternoon. Billowing yellow clouds went up into the air. The Safety Region (body of cooperating services responsible for safety in a particular region) reassured everyone that there were no risks for the surrounding area, but the question does arise: What are the fire hazards with the solar panels on the roofs of our homes?  
An ordinary cloud of smoke already looks worrying, but the sulphur-yellowfumes released on Sunday in Lierop looked toxic.  
According to a spokesperson for the Safety Region, the colour has a logical explanantion. "The fire started in the installation of the solar park, more specifically in the switch boxes and the cables. The combination of burning materials such as plastics and PVC as well as metals create the colour of the smoke".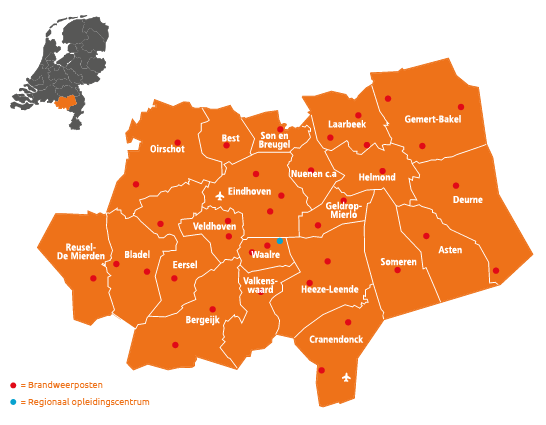 No extra danger
Yet a specific colour does not automatically mean extra danger. "Smoke always contains toxic substances", the spokesman explains. The dangers depend on how many toxins are released into the air. On the solar park, this weekend, it was not so bad.  We did not take any specific measurements, because the smoke concentration was relatively low and there were no people present in the area where the fire had broken out".  
The fire did not start with one solar panel in particular, but the fire was able to spread so quickly because all the panels are connected. Now that more and more roofs in residential areas are covered in solar panels, the logical question is: Should we worry?  
"No", the spokesperson reassures us. "If your solar panels were laid by a certified specialist, there is no cause for concern. Just like with the meter cupboard or central heating boiler a fire can always happen, but solar panels are not more likely catch fire than any other electrical apliance".  
Special instructions
The assumption that solar panel fires are more difficult to extinguish is not necessarily true either, according to the Safety Region spokesperson. "True, there are specific risks, such as falling panels or energised parts. However, the fire brigade is prepared for such eventualities. Last summer the Dutch firefighters created a 'Manual for incidents with solar panels' to be prepared for fires of this nature.  
Source: Omroep Brabant
Translated by: Greta