A pharmacy service point in a school building: Summa College in Eindhoven has a first. Patients receive explanation and advice from the pharmacist's assistants in training. With the service point, the college hopes that more students will become enthusiastic about a pharmacy assistant course.
First medicine service point in college
For the first time, a Dutch educational institution hosts a pharmacy service point. Medicines are prepared at the pharmacy on Trudoplein and then brought to the school by bicycle courier. There, they can then be collected by patients.
Those patients, in turn, are happy to have a new pharmacy so close by. Ideal, thinks local resident Michel Frijters. "I only have to walk here and I have my medication. I used to have to go a lot further to get them."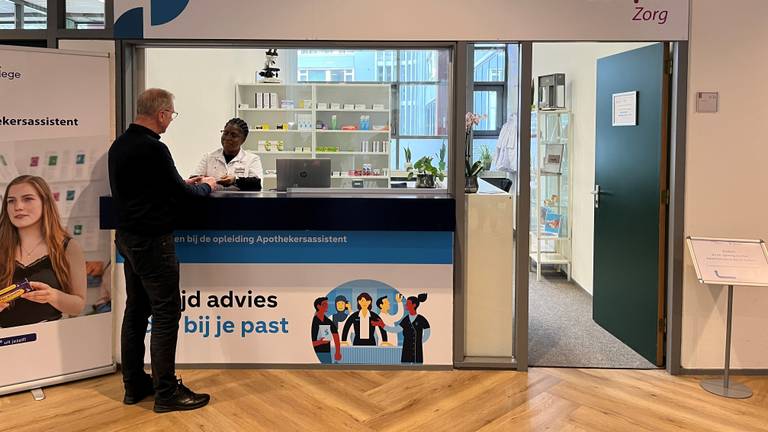 Tutor's supervision
Tutors supervise the students to prevent them from giving someone the wrong medication or if the explanation for the medication is incorrect. "Our tutors are qualified pharmacy assistants," says Hulsen, herself a pharmacy assistant tutor.
Shortage of pharmacy assistants
"There is a glaring shortage of pharmacy assistants." The service point should persuade students to take the course. Or to stay on, because many students drop out. Often because of the theory lessons required. "This course is quite theoretical. It borders on hbo. Students tend to switch to another course. This is how we try to make pharmacy more attractive." This is badly needed, according to the lecturer. "There is a dire shortage of pharmacy assistants."
Getting used to the profession
The course lasts for three years. "We deploy the service point from the first year. It gives students a low-threshold way to get used to the profession." Millicent Fornah is in the second year. Once a week, she runs the service point. "You learn a lot here. People who find it difficult to stand behind the counter can learn more here. It prepares us well for the internship."
The new service point will be inaugurated in May. It will then be open every working day.
Source: OmroepBrabant.nl
Translated by: Anitha Sevugan